August 23, 2023 Dear Clayton Public School Families, Last night, Brenna Davis, a CHS 9th Grade student passed away from injuries sustained in an ATV accident. As a small community, any loss but especially that of a child is felt deeply and our hearts are heavy. While our community processes this news and copes with grief, counselors will be onsite today and tomorrow for all students and staff. All district wide events and activities have been canceled for today and tomorrow. Please continue to pray for Brenna's family and friends.

School pictures scheduled for Wednesday, August 23 have been canceled.

Picture Day is TOMORROW, August 23. All students will have their picture taken and a proof will be sent home at a later date. Seniors - this will be your photo for the yearbook AND the senior panel in the hallway. The photographer requires a $20 sitting fee. Senior boys will need a long sleeved dress shirt and tie (ties will be available to use). Senior girls will wear the wrap (with or without feathers). Senior girls MUST wear a tank top under their shirt. Please contact Mrs. Payne with any questions. Retakes will be October 5th.

August 21-25 Events/Activities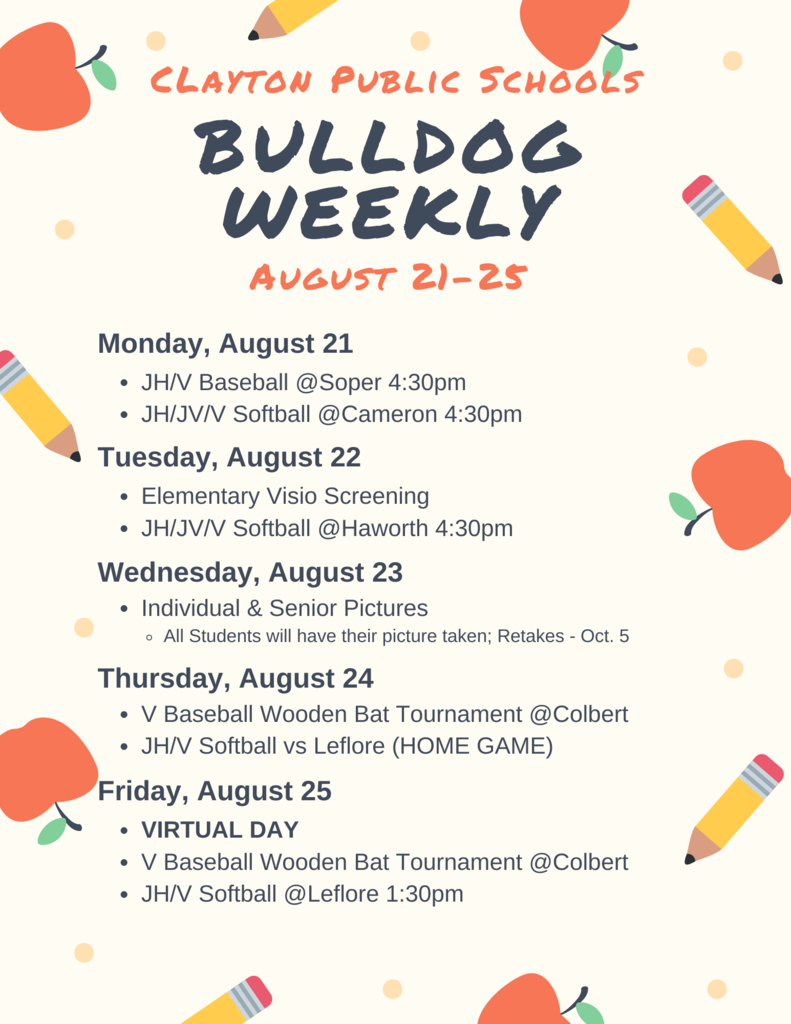 Virtual Friday assignments were sent home today. These assignments are due Monday, August 21. Please contact your child's teacher with any questions.

Picture Day!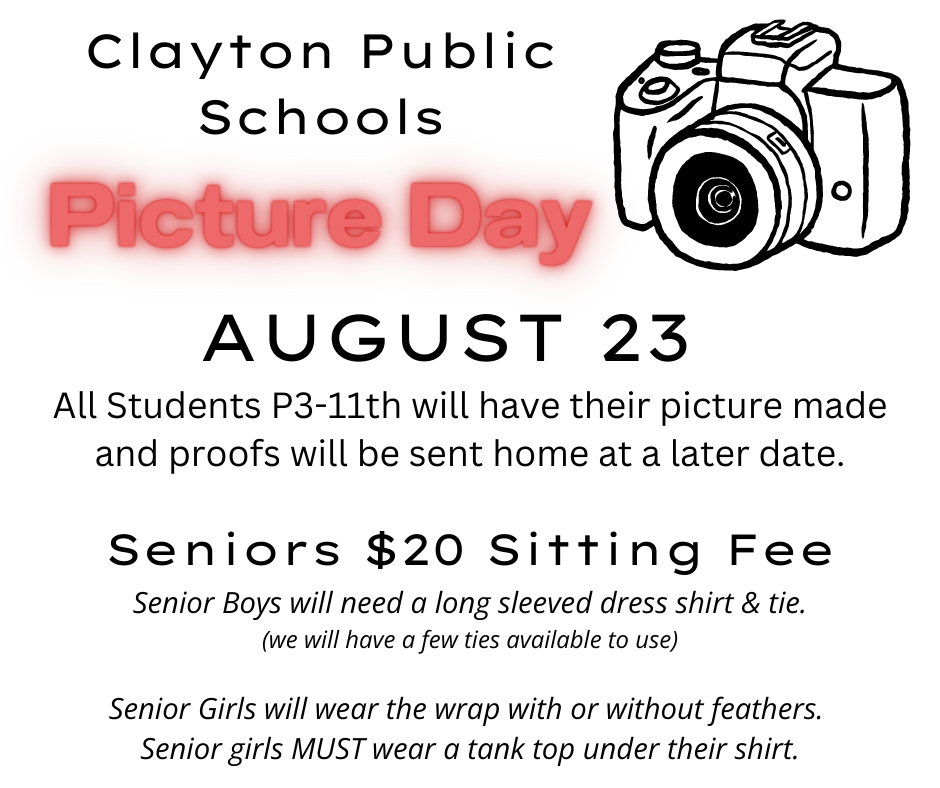 Clayton Public Schools is hiring! There is an opening for a Special Education Teacher or a Paraprofessional. The job may be full-time or part-time. Please contact Dr. Marsha Gore,
mgore@clayton.k12.ok.us
, 918-569-4492.

First day of school is Thursday, August 10 7:40am - 3:05pm. All students (including 2024 Seniors) must be at school by 7:40am. KTC starts on Wednesday, August 9 but Clayton students are not required to attend until August 10. If you do decide to attend KTC on Wednesday, you will need to provide your own transportation.
Please check out the auction items at the AG building and old daycare area that you might want for your classroom before Friday and the auction on Saturday. Shelving, tables, chairs, etc.
Enrollment July 24 and 25. See attached flyer.

We are thrilled to share an exciting update! Clayton Public Schools and the School Board will provide essential school supplies for students in grades K-8 for the upcoming school year! THANK YOU to our wonderful administration and school board for supporting our students and families.

Enrollment - July 24 & 25

If your daughter is interested in playing softball in the upcoming school year, please make plans to attend the Softball Parent/Player Meeting at 6pm tonight, Thursday, May 25 at the softball field. If unable to attend, please contact Coach Haley Potts at 903-263-8487.

Tomorrow, Thursday, May 18, school will be dismissed at 11:30am and buses will run at that same time. Have a wonderful & safe summer break!

Parents/Guardians: Please check with your students to see if they have any library books still checked out. If so, please turn them in by tomorrow, Thursday, May 18.

Clayton Public Schools will launch a new 3 & 4 year old program in the 23-24 school year. Every 3 & 4 year old child will be eligible either through LIFT or Clayton Public Schools. Please contact Clayton Public Schools for more information.

School will be dismissed at 11:30am on Thursday, May 18. Buses will run at that same time. Have a great summer!

2023-2024 Clayton Public School Calendar

Hee Haw Oklahoma - - Buy a BBQ Meal for $10 and get into the show for FREE! *If you have already purchased a dinner ticket, you will be admitted to the show free of charge.

Spring Picture Order Forms are due this Thursday, April 20. After Thursday, all orders will need to be placed online through Heritage Portraits.