Parents/Guardians - You can now access your student's grades through an easy to use phone app. Instructions for requesting access to the Guardian Portal of the gradebook is located on our website at the following link
https://www.clayton.k12.ok.us/page/gradebook-parentguardian-access
and on our school Facebook page. For more information or questions, please contact Clayton Public Schools.

2023-2024 Clayton Public School Basketball Schedules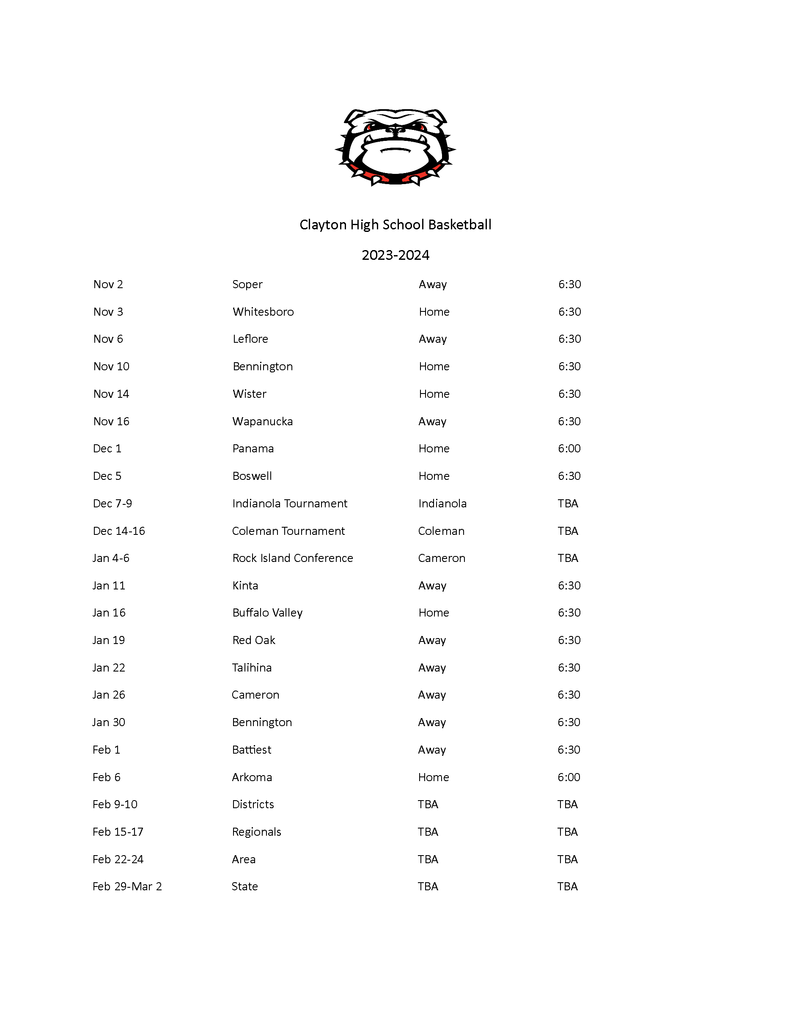 See You at the Pole is Wednesday, September 27 at 7:30am. FBC will serve sausage biscuits, juice & coffee starting at 7:00am in the church parking lot. Hope to see you there!

Blue & Gold has arrived. Please pick up your orders before 8:30pm today (9/26) in the Ag Building. We do not have any available freezer space due to the electrical issue in the cafeteria. Thank you.

3rd & 4th Grade Basketball - Albion Tournament Bracket - September 25-28, 2023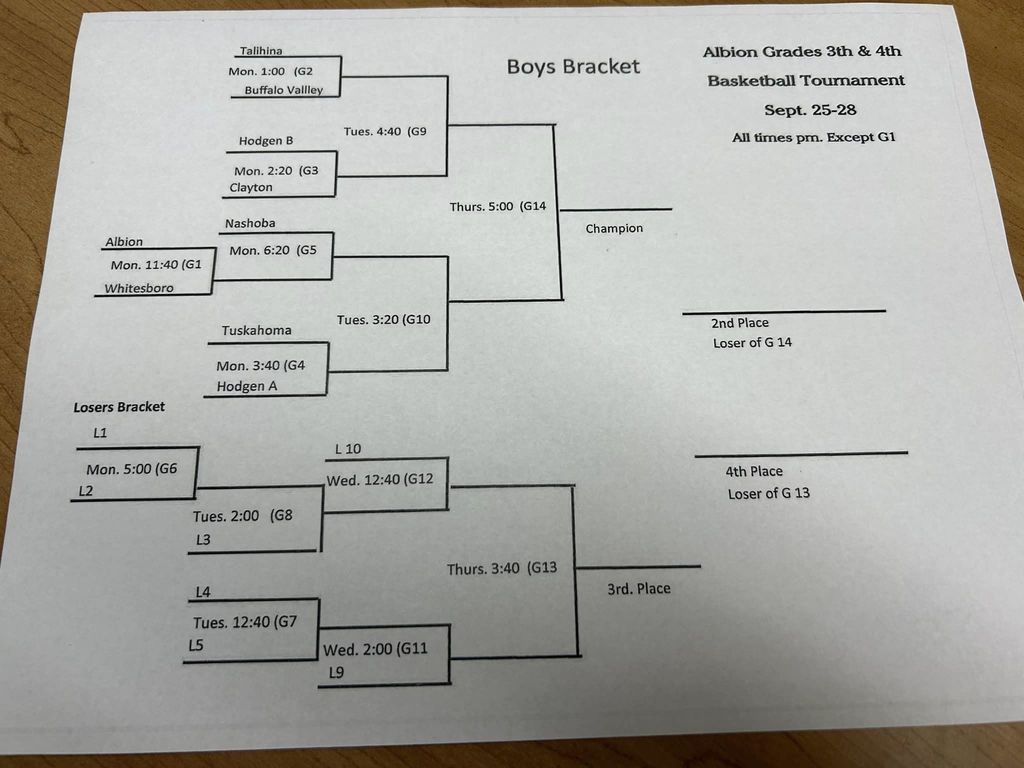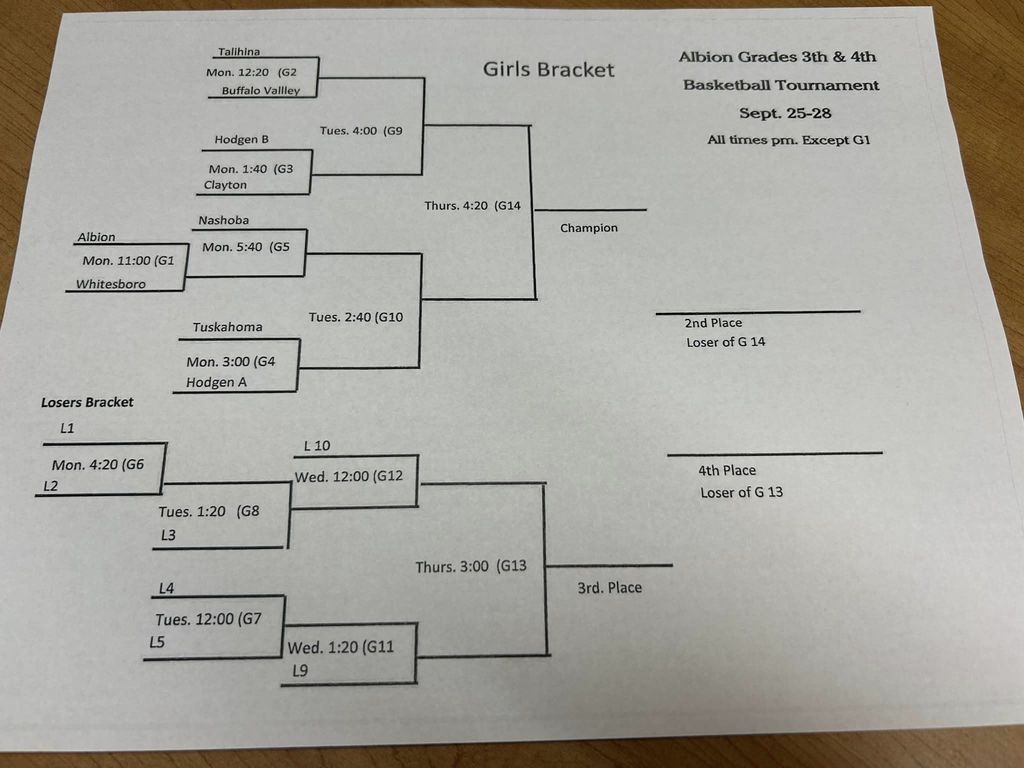 Clayton Public Schools is excited to announce the activation of the Guardian Portal of our gradebook system. This will give parents/guardians the ability to see their student's grades/attendance from an easy to use phone app. Please use the attached "How To" document that outlines the steps to request Guardian Portal access. If you have additional questions, please contact Clayton Public Schools for more information.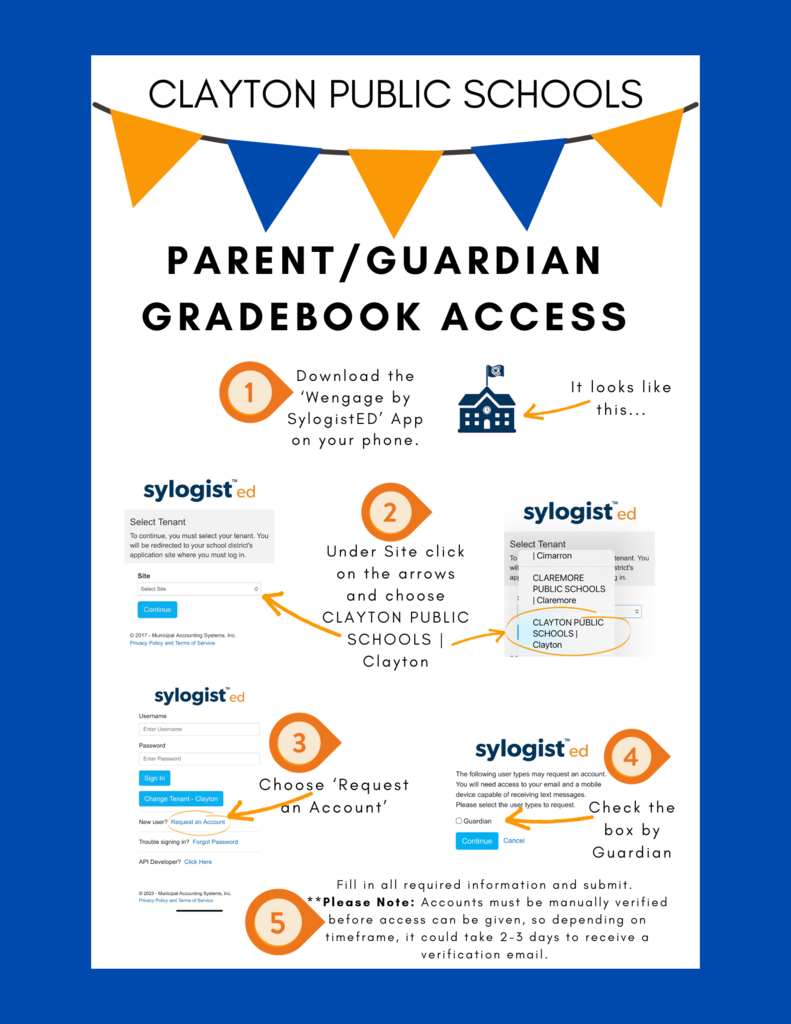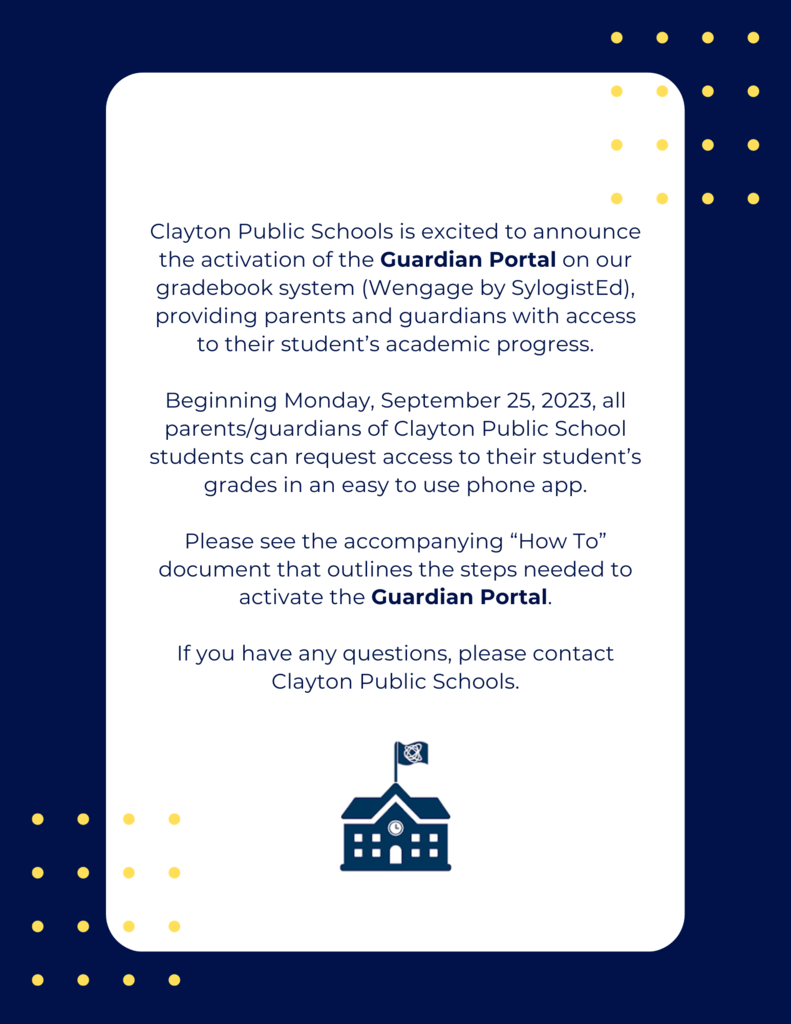 Last night's storms overheated the electrical panel to the cafeteria and as a result, we are currently unable to provide regular hot meal services. For Monday, September 25th, breakfast will consist of cereal, milk & juice and lunch will be a sack lunch with sandwich & milk. Cafeteria staff are actively working with our vendors to come up with alternative meal solutions and administration/teachers are working on alternative meal locations (classrooms, outside, etc.) We understand that this situation may cause inconvenience, and we sincerely appreciate your understanding and cooperation during this time.

**REMINDER** Picture day is tomorrow, Monday, September 25 for P3 - 11th grade and Senior pictures. Seniors need $20 for the sitting fee. Retakes will be Monday, October 23.

Weekly Events & Activities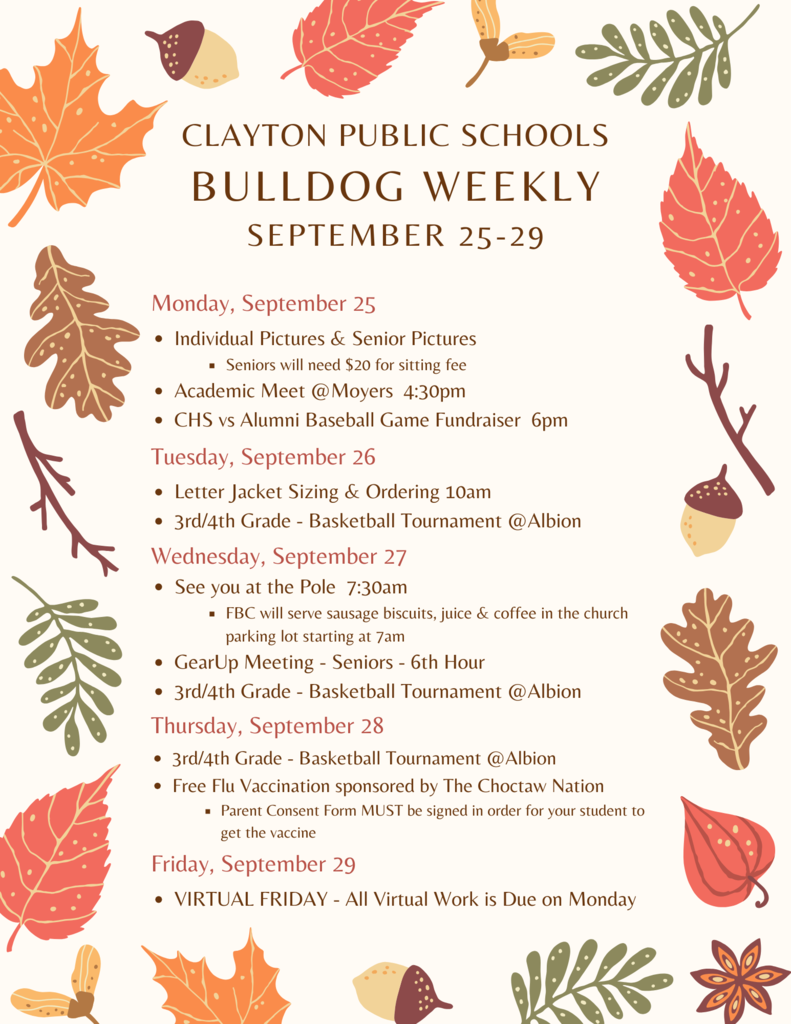 Parents of K-6th graders, please see the attached information about our upcoming program, Project Peace, October 10th and 12th.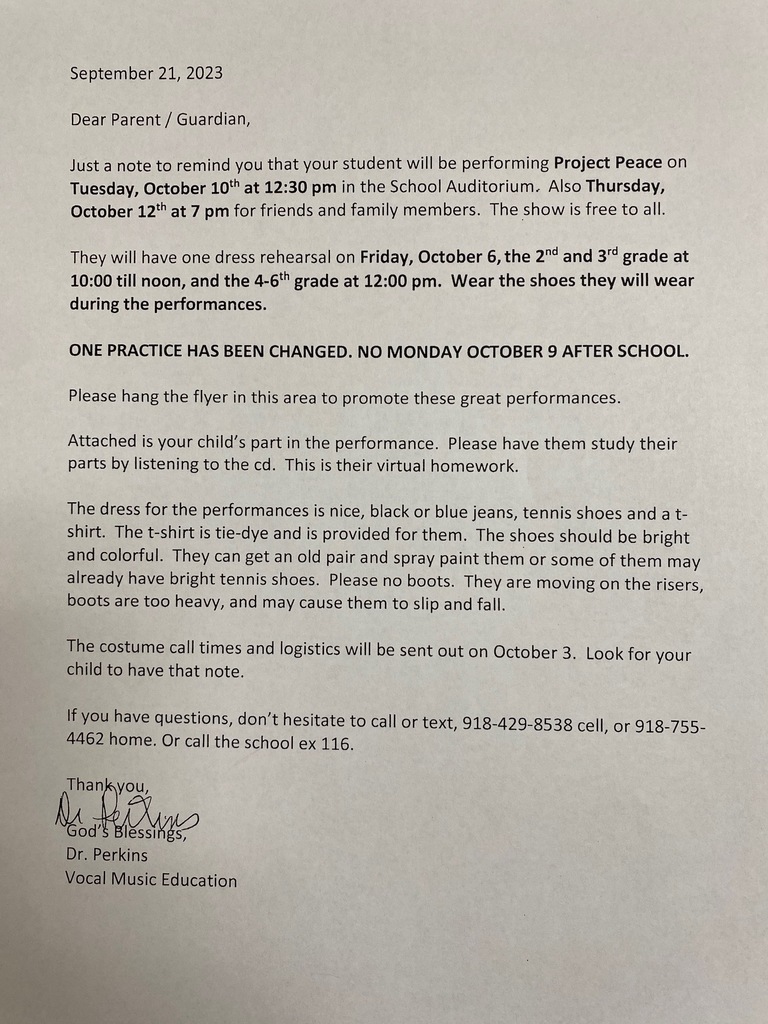 Game times for Softball Districts at Caddo have been moved up due to weather. The first game will be played at 2pm tomorrow (9/21) followed by the second game. Bus will leave CHS at 11:30am.

The Baseball Districts will not be held at Wister today due to field conditions. Games will now be played at Connors State College in Warner, OK. Clayton boys will now play at 4pm and 6pm. The bus will leave CHS at 12:30pm today.

Due to the chance of rain this week, Baseball Districts have been moved to Wednesday (9/20) and Thursday (9/21). Game times will remain the same.

September 18-23 Bulldog Weekly Events/Activities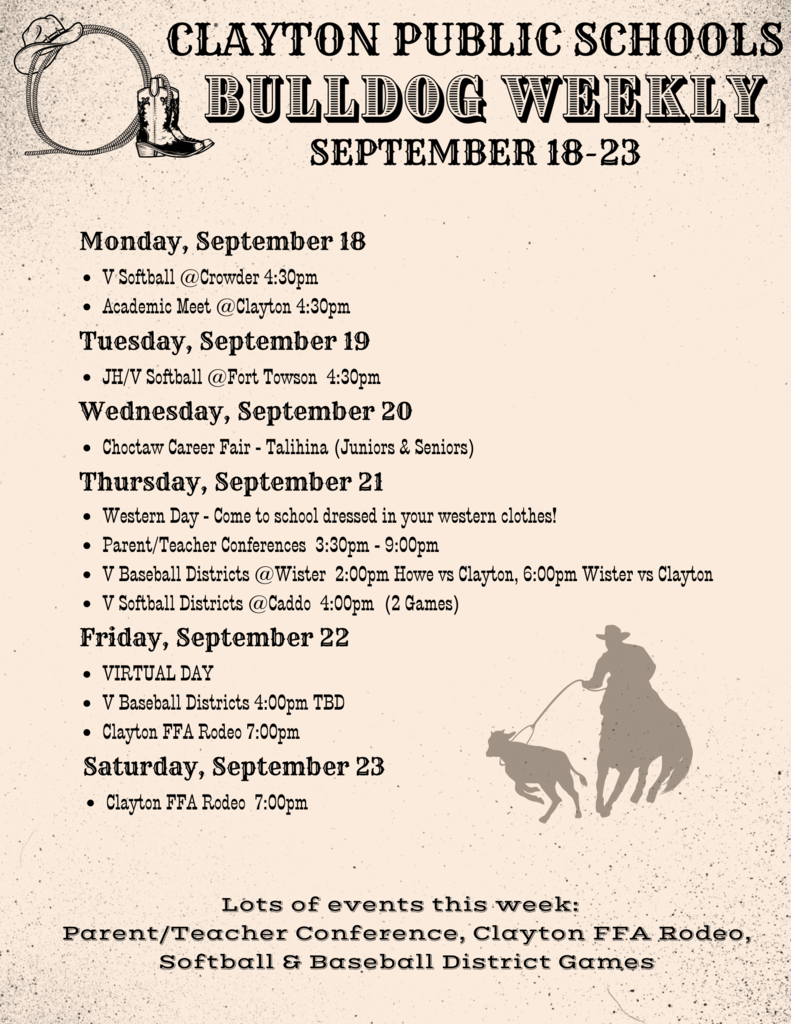 Individual/Senior Picture Day - September 25. All P3-11th Grade will have their pictures made and a proof will be sent home at a later date. Seniors - this will be your photo for the yearbook AND the senior panel in the hallway. The photographer requires a $20 sitting fee. Senior boys will need a long sleeved dress shirt and tie (ties will be available to use). Senior girls will wear the wrap (with or without feathers). Senior girls MUST wear a tank top under their shirt. Please contact Mrs. Payne with any questions. Retakes will be October 23rd.

Clayton High School Baseball Update Thursday, September 14 at 4:30pm we play Bennington @Bennington Friday, September 15 at 4:30pm we play Whitesboro @Whitesboro Coach Potts

The Choctaw Nation is offering optional influenza vaccinations to Clayton Public School staff and K-12 students who have a parent-signed consent form. Parental consent forms for grades K-8 will be sent home with students. High school consent forms can be obtained from the high school office.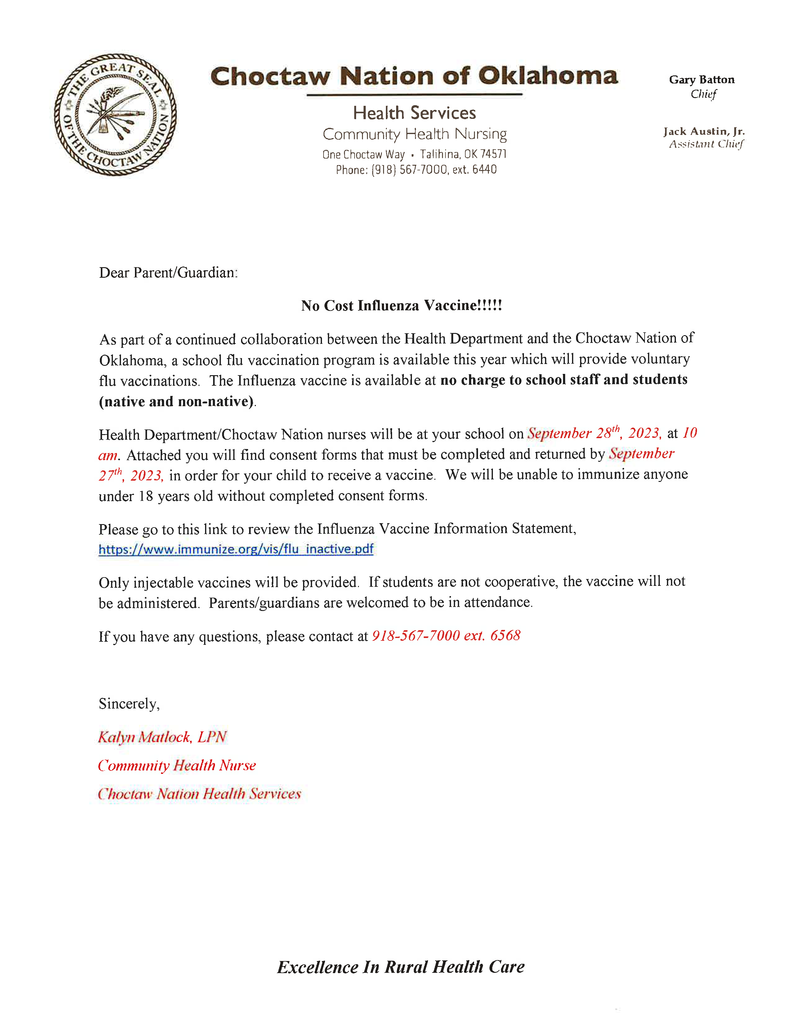 Beginning tomorrow, Wednesday, September 13, 2023, all Clayton High School students will be able to login to the Student Portal on our gradebook system (Wengage by SylogistEd) using their assigned credentials. This secure platform will allow them to view their grades and attendance records in real-time. Information regarding Parent/Guardian access to the gradebook will be released soon.

Today's (Tuesday, September 12) HS Baseball Game against Leflore has been canceled.

Parents/Guardians - Every Thursday after lunch, the Elementary Office will be selling healthy snack options. Please contact Mrs. Melinda Jones for more information.