Tomorrow's, Thursday, March 23, varsity softball game has been moved to Smithville. We will three-way with Smithville and Hugo. We will play Hugo at 6:15 P.M. and then Smithville immediately afterwards.

Tomorrow, Thursday, March 23 is Picture Day for individual Spring pictures and Spring sports pictures (baseball & softball). All students will have an individual Spring picture taken and proofs will be sent home once they arrive. If you want to order Spring sports pictures, money and order form will need to be turned in tomorrow.

Senior Parents - Yearbook is selling Senior Ads. 1/4 page is $25 and 1/2 page is $50. Order forms went home before spring break. If you need a new order form, please reach out to Mrs. Payne. Forms and money are due by April 6. Also, we need one baby picture to add to the yearbook. Please email your senior's baby picture to Mrs. Payne at
amypayne@clayton.k12.ok.us
by April 6.

The softball game scheduled for today, Tuesday, March 21 has ben canceled.

Baseball Team (Varsity) will leave for Coleman at 11:30am, Tuesday, March 21. Game with Coleman @ 2:00 pm. Game with Caney @ 6:00 pm.

Choctaw Summer Youth Applications now being accepted! Don't miss out on your chance to be a part of this opportunity! Accepting Applications Now!!! Youth Employment Services from January 01, 2023 to April 01,2023. Apply through the Chahta Achvffa portal selecting "477 Program" icon as seen in photo. Select Applicant, then "Assistance Required" choose "Employment" & "Summer Youth Employment", Click "Agree & Continue".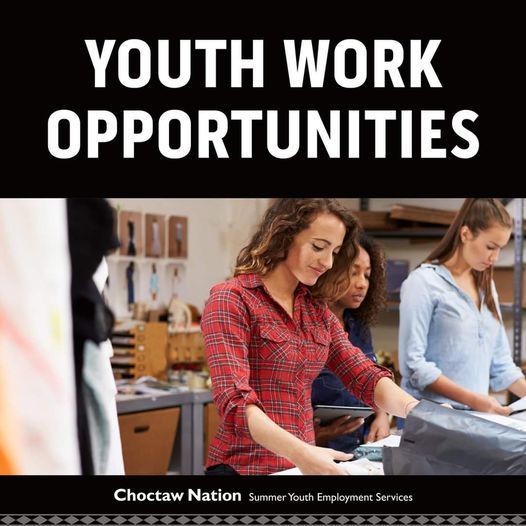 Baseball Team (Varsity) will leave Monday, March 20, at 11:30 am. Game with Wapanucka @ 2:00 pm. Game with Millcreek @ 4:00 pm.

March 20-24 Bulldog Bulletin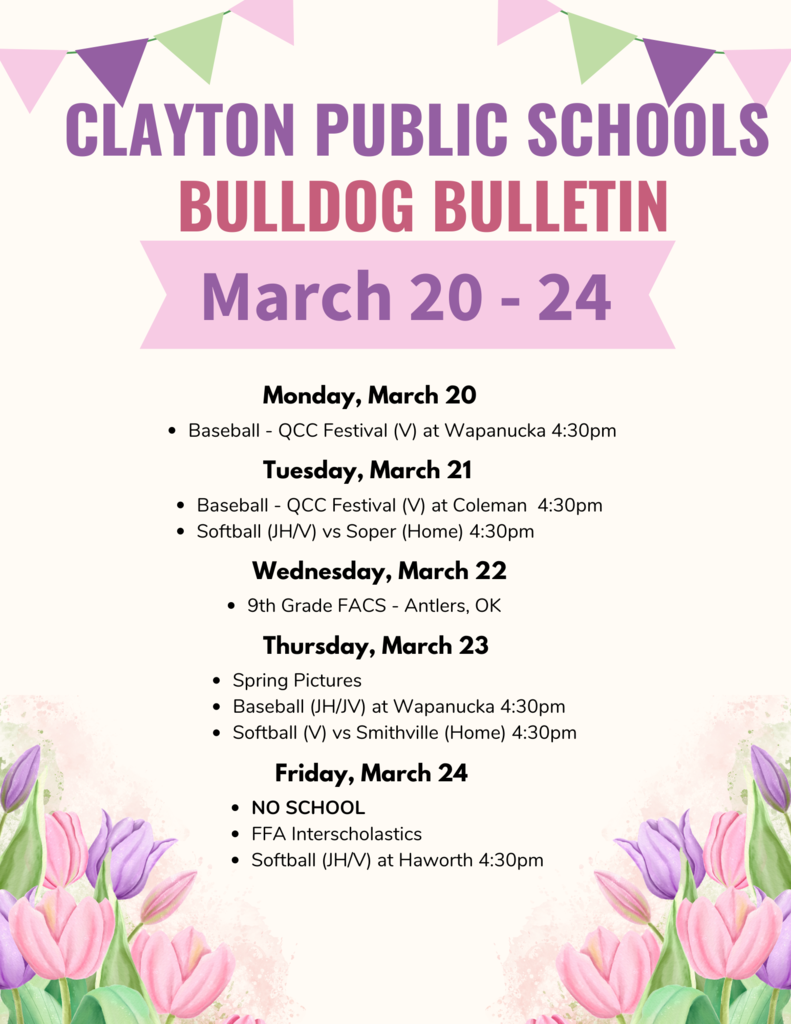 Baseball game for Thursday, March 9 has been CANCELED.

The Thursday, March 9th Softball game has been canceled!

There is no school Thursday, March 9 & Friday, March 10. Also, the following week March 13-17 is Spring Break. Have fun, be safe and enjoy the time off!

REMINDER: The NASA Downlink Field Trip is tomorrow, 3/9/23. Middle School students must be at the Clayton School cafeteria by 7:20 AM. The bus will depart from the cafeteria at 7:30 AM. Breakfast and lunch will be provided. You do not need to send money with your student, there are no gift shops and we will not make any stops. We will return to Clayton School cafeteria no later than 3:05 PM.

There will be a Softball game today, Tuesday, March 7 in Heavener at 4:30pm - Varsity only.

Tomorrow's ,Tuesday March 7th, baseball games that were scheduled to be at Stringtown have been moved to Panama and will start at 5.

Today's softball game location has changed to Fort Towson.

March 6-10 Events/Activities. Bulldog Bulletin designed by Sophomore Amberlyn Cranford.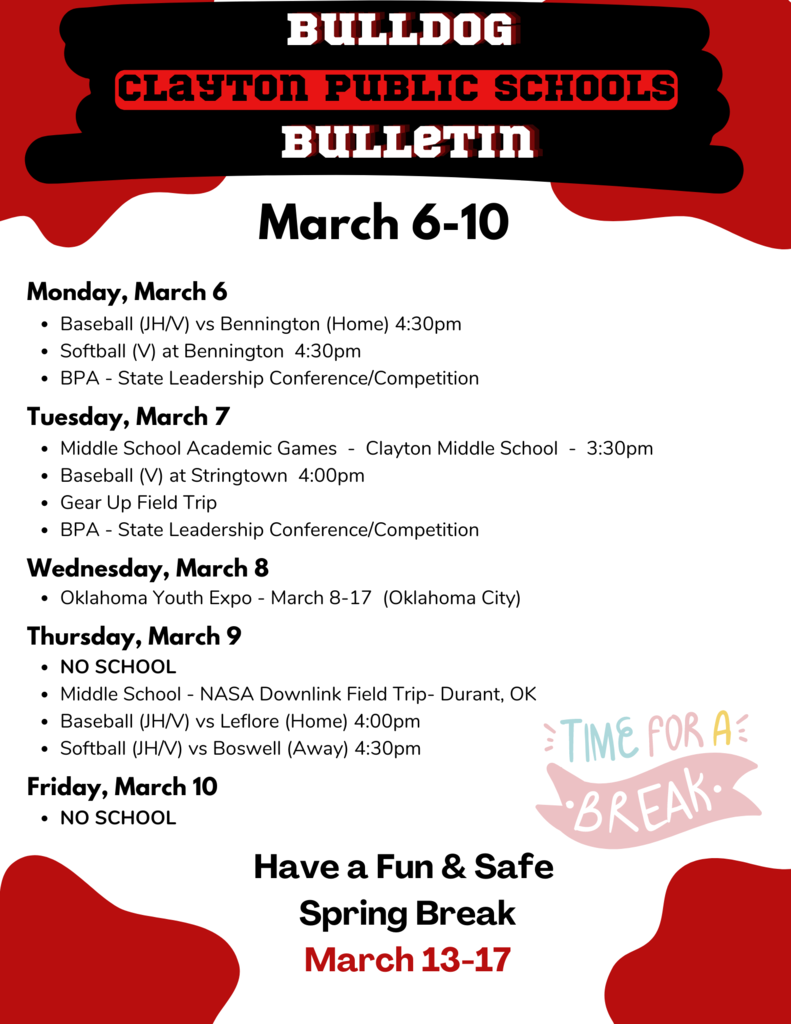 The Pushmataha County Swine Show scheduled for this evening (March 2) has been rescheduled to 9am, Saturday, March 4th due to the potential severe weather predicted for later today.

The baseball game scheduled for today (March 2) has been canceled due to the potential severe weather.

Today's softball game (March 2) has been canceled due to the potential severe weather.

At the end of the school day, Clayton Police Department alerted Clayton Public Schools of reports of an armed individual near the school. Students and school personnel that were still onsite went into lockdown procedures. Clayton Police Department located and apprehended the individual.